Sponsored Links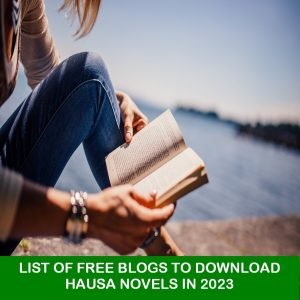 Hello and welcome to HausaeDown.
With the rise of female-based western knowledge in Northern Nigeria (Arewa), the number of authors and writers increases day by day, as do the readers who consume those books.
And now that the north has advanced in this area, there are many readers and writers of Hausa books.
So writing Hausa novels is big business if you're serious about it.
In this under 1,000-word article, you'll find a list of free and popular websites where you can always download any type of Hausa novel you want for free and without paying a dime.
Even though I am the editor in chief of HausaeDown, I am no supporter of illegal book distribution over the internet, but I am sure you'll find those sites cool, lovely, and easy to use.
They all share novels in portable document format (pdf), word format (.doc or.docx), text format (.txt), or e-book format. I hope you are compatible with those file extensions and have a reading app at your disposal.
Hausa Novels are amongst the most widely read genres of books in the Hausa language, were invented by Hausa authors in Nigeria.
The goals of Hausa novels include providing entertainment, knowledge, inspiration, and education.
In the past, all novels were written in printed books, or the "hard copy," but as science and technology have advanced, everything is shifting to the internet (online).
I wish I had more time to develop this article far further than you might anticipate, but I don't want to burden you with a prolonged article because not everyone is amenable to "words in between lines."
So without further ado, let's get started.
DL Hausa Novels is by far one of the most popular Hausa Novels websites, where you can download novels for free without annoying pop-up ads or misleading advertisements. They offer one-click downloading, which is what I love most about their site.
For your own information, this site was founded by a young Nigerian blogger, Shuraihu Usman, who was born and brought up in Keffi, Nassarawa State, Nigeria.
If you need more information about his site or want to contribute to DL Hausa Novels, you may reach him via his official Facebook handle here 🔗.
Are you looking for a site to spend your day reading a complete Hausa Novels completely online? If yes, then Gidan Novels should be in your bookmark folder.
Gidan Novels is one of the oldest free Hausa Novels blogs in Nigeria, it is a site where you don't have to stress yourself out by download a book then later read it. Just open one page book and read it from start to end.
This site is a subdomain of Guide Tricks which was founded by a Blogger, Author, and Software Developer, Muhammad Abba Gana Kolo, who was born and brought up in Yola, Adamawa State Nigeria.
You can also reach him via his Facebook handle here or send him an email via: admin[at]guidetricks.com.
My Novels is yet another excellent Hausa novel download site. They offer free eBooks in different formats, ranging from word format to text format to pdf format to e-book format.
They also post the most recent Hausa novel books in chapters, so if you have the patience to keep up with them, you can read the entire novel in chapters rather than all at once.
In addition, this site offers audio novels, which means you can download any of your favorite audio novels from their site and listen to them on the go.
However, they've got a lot of books to choose from; you only need to visit their website and decide where to begin.
For your information, this site, My Novels, was founded in 2020 by Ibrahim Sani, who was born and brought up in Kaura Namoda, Zamfara State, Nigeria.
His official email address is sdanjari09[at]gmail.com. You can send him an email message if you want to contribute to My Novels, have questions, or are requesting a book.
This awesome site is not just about Hausa novels alone; nope, it comprises many different types of contents, ranging from news articles, novels in chapters, complete novels, entertainment gists, Hausa music, and Hausa series videos.
So what I am trying to say is that Aihausanovels is a multi-niche site, but there are tons of Hausa novels posted on it. If you're looking for a specific novel, why not give it a try?
Aihausanovels was founded in 2020 by Abubakar Isah, popularly known as Kingboy Isah, who was born and brought up in Daura, Katsina State, Nigeria.
If you want to get in touch with aihausanovels admin, you can do so through his official Facebook page here or via email at aihausanovels[at]gmail.com.
But be sure to give this site a one-time visit; I am sure you'll be a regular visitor once you open that site.
I felt it in my veins that Bankin Hausa Novels was the only last site, so after I tell you everything you need to know about it, I am going to recap our whole article, which means I'm going to rest my fingers and let you read the whole thing.
Till now, I haven't talked about the site where you can find almost all your favorite Hausa novels and read them in chapters. But here it is: Bankin Hausa Novels is a site that provides novels in chapters.
Don't forget to bookmark Bankin Hausa novels in your bookmark folder if you're looking for a great place to visit and read novels in chapters.
For your information, Bankin Hausa Novels was founded in 2019 by Nigerian blogger Abdullah Isma'il, who was born and brought up in Abeoukuta, Ogun State, Nigeria.
If you have a request, a question, or want to contribute to the growing community of readers, send him an email at ismailsalankeabdallah1[at]gmail.com.
Summary
In the above paragraphs, we provided a list of 5 top free Hausa novel blogs to download the latest and most recent Hausa novels and any kind of Hausa book from. We also provided you with information about the people behind those sites, including their publicly available contact details.
We hope you enjoy reading this article; if you do, then do not forget to leave a comment on this post. We value you as our blog readers.